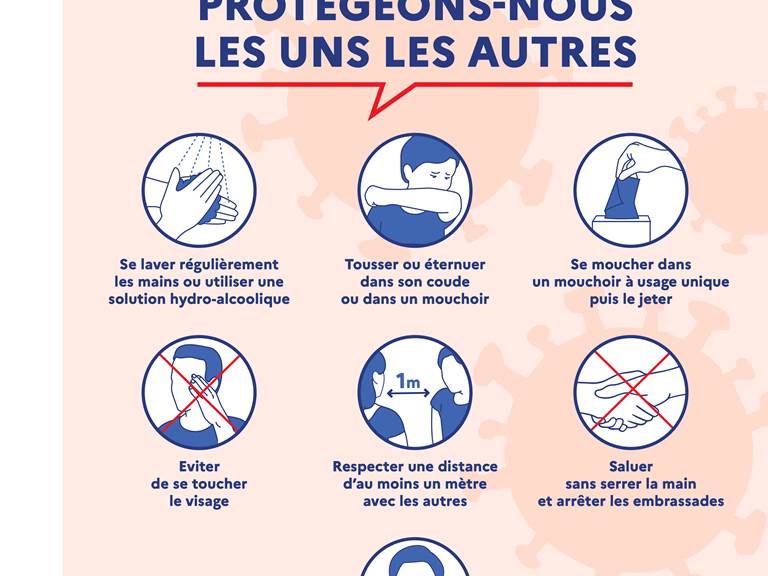 12 May 20
COVID-19: LET US PROTECT OURSELVES FOR A NICE STAY!
To cope with this epidemic and so that everyone can enjoy their stay at Mas Mellou in complete peace of mind, a protocol for cleaning and disinfecting rooms and spaces no longer shared but passed through by the hosts as well as the installation of spaces for sonic distance, especially for breakfast.
So I put at your disposal masks and hydroalcoholic gel for those who would not be equipped.
I do my best so that the conviviality which has always animated this place is present and counts on your understanding and your implication in the respect of some changes and temporary arrangements which have been put in place.
See you soon at Mas Mellou and take care of yourself!
Barbara
11 May 20
POSTPONEMENT AND CANCELLATION OF CHOREGIES DATES
Press release of 05/05/2020
Are reported:
✅ Nemanja Radulovic and Double Sens postponed to July 2, 2021,
✅ Samson and Dalila postponed to July 10, 2021
✅ Cécilia Bartoli and the musicians of the Prince - Monaco postponed to July 16, 2021
✅ Ballet For life / Queen + Béjart (Béjart Ballet de Lausanne) postponed to July 22, 2021
Are canceled:
❌ Chung / Vengerov Concert
❌ Concert of the classic Revelations of ADAMI
❌ La Forza Del Destino (Verdi)

People who bought one or more tickets for one or more shows will be able to request a refund, a postponement, or even make a donation in support of the Orange Chorégies; all before September 30, 2020.
A form will be sent to the spectators concerned in the coming days; they can also find it on the home page of the Orange Chorégies website: www.choregies.fr.
This form can be completed directly online, or downloaded and sent by email to ticketing @ choregies.com, or printed and then sent by post to SPL Chorégies d'Orange | BP 10205 | 84107 Orange Cedex.
For people who do not have internet access, the ticket office of the Chorégies d'Orange can be reached by phone on 04 90 34 24 24, Monday to Friday from 9:30 a.m. to 12 p.m. until the end of July. The physical ticket office is closed until the opening of the 2021 ticket office. The purchase of tickets for the 2021 shows will begin when the ticket office opens for this 2021 season; the date will be communicated later, as every year.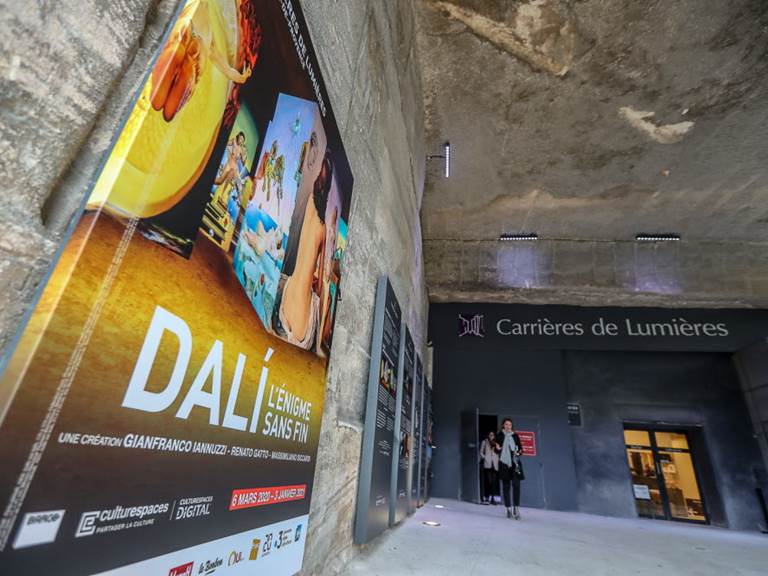 08 Mar 20
Dali, the endless enigma - From March 6, 2020 to January 3, 2021
In 2020, the Carrières de Lumières lights up with famous and singular works by Salvador Dalí. "Dalí, the endless enigma" looks back on more than 60 creative years of the Catalan master who has traveled and invented several artistic styles.
This retrospective, associated with the music of the legendary group from the 1960s, offers a timeless journey that awakens the unconscious where Dalí's work remains a mystery and an endless enigma.

https://www.carrieres-lumieres.com/fr/dali-lenigme-sans-fin

Practical information Expo Dali 2020 and access to the Light Quarries
New Dali exhibition "the endless enigma" from March 6, 2020.
The Quarries of Lights of Baux de Provence are open every day from March 1 to January 31.
January, March, November and December: 10 a.m. - 6 p.m. Opening at 11 a.m. on December 25 and January 1.
April, May, June, September and October: 9.30 a.m. - 7 p.m.
July and August: 9:30 am to 7:30 pm
Last entry 1 hour before closing
Full price: 13 €
Senior rate: 12 € (over 65)
Reduced rate: € 11 (students, young people aged 18 to 25, children aged 7 to 17, job seekers, people with reduced mobility, holders of the Education pass)
Family rate: 37 € (for 2 adults and 2 children from 7 to 17 years old)
Free for children under 7, journalists and people with reduced mobility.
>> on presentation of valid proof of less than 6 months
> Attention! The quarries are cool (14 ° to 16 ° in the performance hall) >>> bring warm clothing!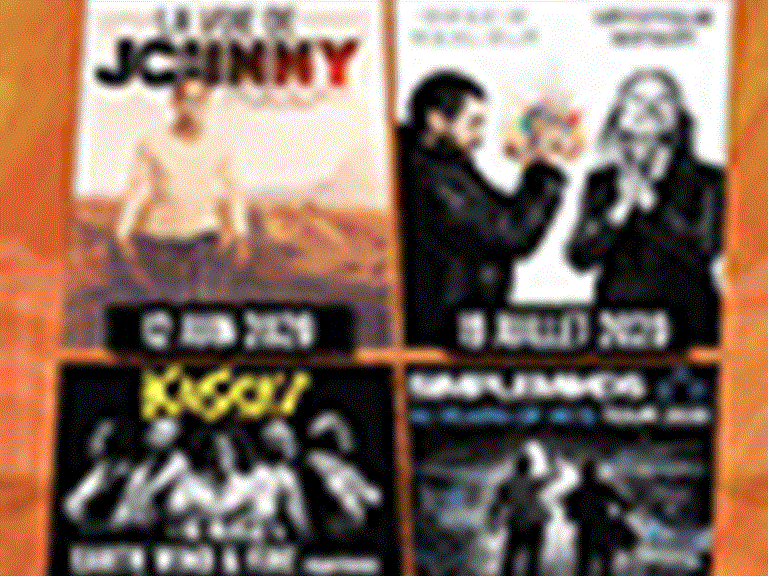 08 Mar 20
A varied program in addition to the Chorégies, there is something for everyone!
CALOGERO SYMPHONIC (Variety and French song)
June 6, 2020

The Spectacul'Art choir, one of the largest in France with its 600 choristers, returns with its new show: "CALOGERO SYMPHONIC". After Balavoine and Goldman, a tribute will be paid to one of the best singer songwriters of his generation: CALOGERO. For almost 2 hours relive the most beautiful tubes of 42.50 the artist, but also those he composed for others: Take root, If only I could miss him, Weightless, the load-bearing walls, etc ... exceptional guest of this evening, Patrick FIORI will sing a few songs, he who had several of these tubes composed by CALOGERO, including "Que tu reviennes ...." This generous artist, as well as the singers will be accompanied by the Symphonic's orchestra, 45 musicians on stage for this real sound and light show. Each year thousands of spectators let themselves be surprised and seduced by this show "Made in Spectacul'Art".To see with family and friends!

LA VOIE DE JOHNNY (French Variety and Song)
June 12, 2020

Find the vocal phenomenon Jean-Baptiste Guégan in the show La Voie de Johnny. The vocal phenomenon Jean-Baptiste Guégan heads for Johnny's way and starts a tour of the great halls from May 2019. Revealed by the program Incroyable Talent to the general public Jean-Baptiste started his career there is however good long in the mists of his native Brittany. It will be shown in the most beautiful cinemas in France in 2019 and 2020 and by La Seine Musicale de Paris on 19/01/20.

IBRAHIM MAALOUF + VERONIQUE SANSON (Variety and French song)
July 19, 2020

Véronique Sanson and Ibrahim Maalouf will give us an exceptional evening.

KASSAV + EARTH WIND § FIRE EXPERIENCE (RNB SOUL FUNK DISCO)
August 7, 2020

Come dance with Kassav and Al McKay's Earth Wind & Fire experience.

SIMPLE MINDS (POP ROCK FOLK)
August 8, 2020

Simple Minds and their 40 iconic years in music take over the Théâtre Antique.

JEAN-FRANCOIS GEROLD, LE CONDOR (World music)
August 10, 2020

An exceptional concert will be presented to you, in a magnificent setting, where the place will relive its medieval memories ... 20 years of music and dance will be honored. Together, we are changing the history of our Provençal instruments by inscribing them in the world of musical music

TOTALLY 80 (Variety and French song)
August 12, 2020

IT'S SUMMER …
It's time to come and party with your biggest stars of the 80s, those who made you dream… 3 hours of total live show with 10 musicians from France 3's show ""Les enfants de la musique"" directed by Richard Gardet.
JEROME ANTHONY presents the show
JEAN LUC LAHAYE
IOL
DAVID & JONATHAN
JULIE PIETRI
SPECIAL PARTNER
ALAIN LLORCA (Gold)
SACHA (Early evening)
BIBIE
JEAN SCHULTHEIS
A CAUS 'DES GARCONS
CAROLINE LOEB
IVANOV

DJ NIGHT - OFFENBACH LIVE (Electronic music)
August 15, 2020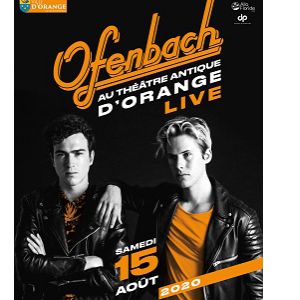 At only 24 years old, these two Parisians are one of the rising values of deep house, even if their sound is not exclusively electro and challenges the big names of bock and folk.This is what we hear in "Be Mine", ranked in the heights of the world rankings and which aligns more than 300 million streams, served by a clip both fun and sexy.
100 million views on the counter for this one: this is what we can call a tube
However, no excessive ambition in César and Dorian. The first is a pianist, drummer in his spare time, of classical training; the second is a singer and guitarist. Parisians, they live 100 meters apart. . . confines at the time of their first meeting, at the age of 11, in the corridors of their college l During a fire alarm demonstration, the students must line up. We can guess, César and Dorien are pairing, chaining the jokes during the exercise. Since then, they haven't left each other.
At 13, they set up their first rock group, play music festivals in bars and rehearse in César's cellar. In high school. Dorien plays guitar in a pop group while César revises his classics by studying lyric singing and the piano.At 16, they find themselves in another pop group & a few concerts at Gibus later, giving way to a real search for composition, stylistic research and even recording in the studio. Fascinated, César and Dorian observe the work of the sound engineer.
After high school, everyone's university studies distended the group, but the two accomplices persisted.
Both of them follow the lessons of a film school, they learn to juggle the rhythms and the keyboard layers. They dive into the deep, are passionate about Robin Sclntlz, Bakermat, while continuing to admire the French Touch that rocked their childhood: Daft Punk, Stardust, Etienne de Crécy, Ed Banger, Cassius, Justice, Kavinsky. Their objective: to contribute to a French Touch 2. After numerous mixes in Parisian underground bars, the duo finally finds a stage name (26th / rôrzc & in, spiré of a musical score by César, posed on their piano ... A way of paying homage to music without
plagiarize
After remixing Bob Sinclar or Hyphen Hypen, the group meditates on the direction they want to offer to their music
It will be a mixture of deep house with their teen influences: the Rolling Stores, Led Zeppelin, Supertramp, Neil Young
After experiencing the new rock wave of the early 2000s worn by The Libertines, Arctic Monkeys or The Strokes,
César and Dorian wish to recall this raw and sensual energy, which cultivates themes around seduction.
Of which act with "Be Mine", alliance of 70's rock and contemporary electro where the duo also used real organ and guitar takes while working the sound of a double bass with distortions. It is not because Ofenbach makes club crowds dance that César and Dorien will give up their perfectos and their look under rock'n'roll influence. Their model in terms of song? Start Me Up des Stones l We will understand, this is only the beginning for Ofenbach

THE LORD OF THE RINGS (Film music)
August 18, 2020

JRR Tolkien's masterpiece in concert with the orchestra, choir and Tolkien Ensemble on Oscar-winning music by Howard Shore, Annie Lennox, Enya and Ed Sheeran. Billy Boyd "Pippin" sings his songs "Edge Of Night" (The Lord of the Rings) and "The Last Goodbye" (The Hobbit) as well as for the first time the unreleased song "Before The Dawn" by Peter Jackson! The fantastic world of hobbits and elves is presented in the form of a concert with symphonic orchestra and choir. The legendary world of Hobbits comes to life in a unique musical event.

THE MUSIC OF HANS ZIMMER & OTHERS (Film music)
August 19, 2020

The Lion King, Pirates of the Caribbean, Gladiator, The Dark Knight, Man of Steel, Spiderman, Inception, Interstellar, Dunkirk and more ...Hans Zimmer is recognized worldwide as one of the most innovative musical talents in Hollywood. No other composer has influenced the world of cinema so much in the past two decades. A symphonic retrospective on the most beautiful moments of cinema, interpreted by the Symphonic Orchestra of Hollywood and the State Academic Symphonic Orchestra as well as the choir of the Republic of Belarus.

AFTERLIFE (Electronic music)
Afterlife - Tale Of Us - Adriatic
August 22, 2020

LIVE NATION (2-1058290 / 3-1058291) presents this concert Event prohibited for children under 16
AFTERLIFE ARRIVES FOR THE 1st TIME IN FRANCE
After investing in unusual places around the world, Tale Of Us and Afterlife are finally organizing an exceptional event in France in the Roman Theater of Orange, a magnificent site listed as World Heritage by UNESCO.
Tale Of Us will present their famous musical and visual journey in this emblematic heritage of Imperial Rome.With a tailor-made production, Tale Of Us will also invite Adriatique , the live from Kas: st and Colyn .